---
If you will run Wipeout2097 with your G-Rex and Voodoo card for the first time you will find out that there will be some troubles. First you will not be able to select a screen mode for running on own screen. The solution is to add the tooltype RGB16BE=YES to your Voodoo card. After that reboot your system and now you can select your screen modes. Be sure that you have 16bit screens configured.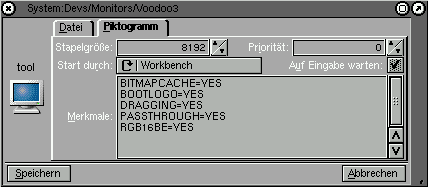 If you want to play Wipeout2097 in Windows Mode and get the message Mode not supported by any Warp3D driver than your Workbench is not running in 16bit mode. Change the screen mode to a 16bit one and you will be able to play in a window.


This page is Copyright © 2002-2023 Matthias Münch. All Rights Reserved.
'G-REX PCI' is a Product of DCE Computer Service GmbH. All Rights Reserved.




AmigaPlus
Issue 01/2002
"The G-REX family, including the G-REX 1200, is [...] a technical matured Product, that can be recommend to every BlizzardPPC owner."